Irish Guinness Stout Chocolate Cake (Nigella Lawson) - Guinness Schokoladenkuchen von Nigella Lawson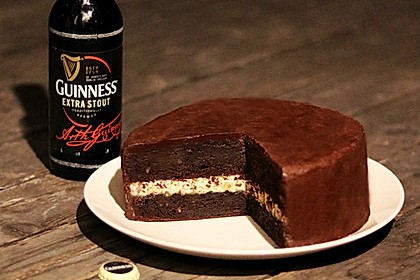 This is one of the best and moistest chocolate cakes you will ever have - this is a version of Nigella Lawson... fabulous and has been a favorite of my family... and you can us the dough and make 12 cupcakes instead of a cake too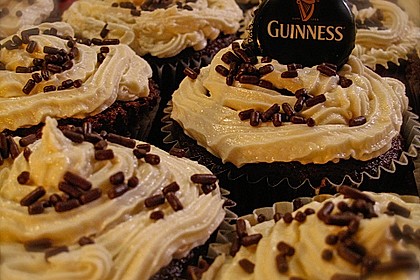 GUINNESS CHOCOLATE CAKE
Nigella's Guinness chocolate cake. Guinness + chocolate + cake = my dream dessert.
INGREDIENTS
FOR THE GUINNESS CHOCOLATE CAKE:
10 tablespoons unsalted butter plus 2 tablespoons

1 cup Guinness stout beer

2 cups all purpose flour

2-1/2 teaspoons baking soda

3/4 cup sour cream

2 large eggs

1 tablespoon pure vanilla extract

2 cups ultra fine sugar

3/4 cup unsweetened cocoa powder plus 2 tablespoons for pan
FOR THE FROSTING:
1 (8 ounce) brick cream cheese, softened

2-1/2 cups sifted powdered sugar

2 tablespoons of whole milk or heavy cream
INSTRUCTIONS
Preheat your oven to 350° and butter a 9-inch springform pan with 2 tablespoons of unsalted butter. Dust with 2 tablespoons of cocoa powder, tap out the excess cocoa powder and set off to the side.
In a large mixing bowl, combine the flour and baking soda and then set off to the side as well.
In a wide saucepan, add the remaining 10 tablespoons of butter with the beer. Heat on medium-low until melted. Once melted, stir in the sugar and cocoa powder.
Meanwhile in a separate bowl, whisk together the sour cream, eggs and vanilla extract. Then add this mixture into the cocoa/beer mixture and whisk to combine.
Pour the chocolate mixture into the bowl with the flour and stir until incorporated, then pour the chocolate Guinness cake batter into the prepared pan.
Bake on the middle rack of your preheated oven for 40 to 45 minutes or until a cake tester comes out with only a trace of batter attached.
Allow the cake to cool before frosting.
In a medium bowl, beat the cream cheese until smooth. Gradually add in the powdered sugar and the milk. If frosting is too thick, add more sifted powdered sugar. If too thick, thin out with a little more milk. Once the frosting is smooth, frost only the top of the cake, leaving the sides of the dark brown cake exposed. The cake should resemble a pint of Guinness.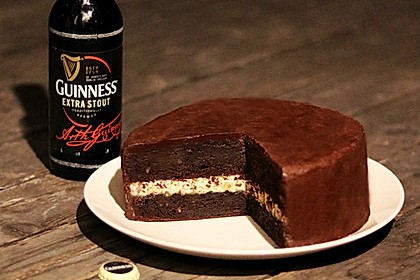 Guinness Schokoladenkuchen

Nigella Lawson
eines der saftigsten Schokoladenkuchen und seit ich es in Chefkoch gepostet habe hat dieses Rezept viele Freunde gefunden :-) ist ein super Herrenkuchen ... oft als Geburtstagskuchen für Männer aller Altersgruppen genutzt und kann auch in Muffins gewandelt werden!



Guinness Chocolate Cake
Zutaten für 1 Portionen:
| | |
| --- | --- |
| 250 ml | Bier, Guinness |
| 250 g | Butter |
| 75 g | Kakaopulver |
| 400 g | Zucker |
| 140 ml | saure Sahne o. Schmand |
| 2 | Ei(er) |
| 1 Pck. | Vanillezucker, Bourbon |
| 275 g | Mehl |
| 1 TL | Natron |
| 300 g | Frischkäse |
| 150 g | Puderzucker |

Verfasser: twinkle30/ Alissa Stehr
Bitte den Ofen auf 180° vorheizen und eine Springform (23cm) einfetten und mehlen.

Anschließend geben Sie das Bier in einen großen Topf und fügen die Butter hinzu und lassen sie schmelzen und nehmen den Topf vom Herd. Nun rühren Sie den Kakao und den Zucker unter.

In einer kleinen Schüssel schlagen Sie die saure Sahne und die Eier, Vanille und fügen es zu dem Biermix. Nun rühren Sie langsam das Mehl mit dem Soda (Natron) unter, bis ein glatter Teig entsteht - nicht zuviel rühren!

Gießen Sie den Teig in die Backform und backen Sie den Kuchen ca. 45 min - 60 min. Komplett in der Form auskühlen lassen - da es ein ziemlich feuchter Kuchen ist!!!

Vorsichtig den Frischkäse schlagen bis er glatt und weich ist und anschließend den Puderzucker unterrühren bis ein glatter, streichfähiger Guss entsteht, nun den Kuchen damit oben drauf locker einstreichen.